The automated production planning
from K-Businesscom
adapts individuallytoyour business processes.
Individual customer requirements. Fluctuating capacity utilization. Short-term demands. Uncertain raw material supply. Rising energy prices. More restrictive environmental regulations. Production processesare becoming increasingly complex. To meet this challenge, you need fast and agile processes in production.
This is where smart production planningcan help. With the help of smart Artificial Intelligence (AI), we ensure efficient and sustainable production. Together with you and your team, we analyze the initial situation and develop a customized solution for you.
DASHBOARD -
See everything at a glance. With Smart Planning.
How it works: The dashboard gives you a quick overview of current production per site. The most important key performance indicators such as inventories, capacity utilization, deviation, calculated CO2 emissions are clearly displayed here in comparison to the previous month.
PLANNING -
Plan everything in one piece. With Smart Planning.
As the heart of your automated production planning, the tool enables you to quickly plan your production. Whether different production lines, stock levels, delivery times - all different parameters can be easily planned and adapted in a weekly or monthly plan. By using AI, accurate forecasts can be created and the traceability and transparency of planning is improved.
SIMULATION -
Simulate everything
with one click.
With Smart Planning.
Evaluate and simulate the effects of plan changes on your production. The "planning mixer" makes it possible: Deactivating locations or adjusting inventory, buffers or CO2 reduction - possible scenarios are played out in no time and enable well-founded decisions.
Find out about the advantages of our Automated Production Planning.
Why
automated
production planning?
// we transform for the better
Automation accelerates planning processes, relieves employees, optimizes resources, reduces costs and enables flexible production for higher sales with less effort.
This is how
benefits your employees:
Acceleration ofplanningprocesses
Faster processes enable automation to achieve the same goal with less power, raw materials and tools.
Relief of the production planner
There is both a time reduction of the planning effort and the minimization of human errors. Artificial Intelligence as a "digital work colleague" supports the existing production team, but control remains with the employees.
More capacity for processimprovements
With the help of the analysis and simulation functions, weak points and optimization potentials are already identified at an early stage in the planning process.

REACT BETTER.
ACT FASTER.
How
benefits your business:
Increasedefficiency
Automation software enables more efficient processes to achieve goals with fewer resources, energy and tools, optimizing energy costs, CO2 emissions and resource consumption.
Costreduction
Time-related costs are minimized, as well as downtime costs that arise from scheduling new jobs or short-term machine breakdowns.
Flexible production
Better planning reduces the amount of capital tied up in the company and supports the establishment of just-in-time production.

INCREASED SALES.
LOWER EXPENSES.
#customersays:
"The elaborate and complex planning process took a lot of time. The mapping and especially the compilation of the data was very difficult to map in Excel. KBC's planning tool, as a "digital planning colleague", helps us to accelerate this process and, above all, to subject it to quality assurance through transparency in the use of the data. The agile approach and the close cooperation in the project with our planning managers and KBC made it possible to create a tool that is tailored and optimized to our process."
Become a pioneer. With K-Businesscom.
As the former Kapsch BusinessCom, we look back on 130 years of experience in information technology. We are constantly evolving and know the needs of the industry through our in-depth industry know-how, many years of experience and additional external experts. Our top priority is the best quality in consulting and implementation as well as innovative, individual products through the combination of ideal hardware and excellent software solutions (end-to-end).

In automated production planning, we focus on your existing business processes and the individual know-how of the production planners. We extend your existing process for agile growth and future-proof solutions. And we do it in an uncomplicated and powerful way.

// pioneer. // visionary. // PIONEER. // QUALITY.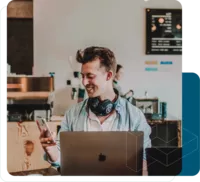 Start your future. With Smart Planning.
7 steps to efficient planning.
Change doesn't have to be difficult. To make the implementation of automated production planning as pleasant and easy as possible for you, we have developed a simple 7-step process in which we accompany you on your way to more efficient production. On your mark, get set, ..
Protect the
environment.
And your wallet. With Smart Planning.
With automatic production planning, you not only conserve your own resources, you also do something good for the environment.
How? The tool makes your entire supply chain more efficient. Since production is geared to customer demand according to location, you save on unnecessary transport and storage costs. In this way, you make your contribution to sustainability, reduce your expenses and efficiently counteract the increased energy costs.

// SUSTAINABILITY. // SAVE. // CONTRIBUTION. // ENVIRONMENT.